Presented by the Chan Centre for the Performing Arts, UBC Centre for Climate Justice, and the David Suzuki Foundation.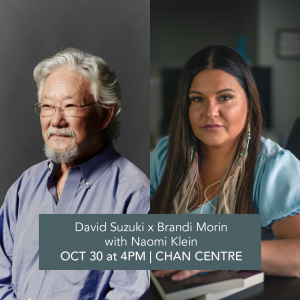 Author of more than 50 books and an internationally renowned geneticist and environmentalist, David Suzuki re-issues his seminal book The Sacred Balance for a special 25th anniversary edition. To celebrate this momentous occasion, David Suzuki will speak with Edward R Murrow-winning French, Cree, and Iroquois journalist Brandi Morin, author of the searing and powerful memoir Our Voice of Fire.
The conversation will be moderated by Naomi Klein, the award-winning, New York Times best-selling author and Co-Director of the Centre for Climate Justice at UBC. The event will include a closing address by Hereditary Chief Na'moks of the Tsayu Clan of the Wet'suwet'en Nation, addressing the ongoing struggle of Wet'suwet'en hereditary leaders to defend their lands, waters, and sacred sites against the Coastal Gaslink Pipeline.
David Suzuki and Brandi Morin will be available to sign books following the event. Bundle your ticket to purchase The Sacred Balance and/or Our Voice of Fire. Purchase both books to save $5!
More details are available here.