Last month UBC wrapped up an amazing Climate Emergency Week (actually TWO weeks) packed with stellar events, including full-house talks by Omar Tesdell and Thea Riofrancos at CCJ.
In case you missed these talks, they're now available to view at the links below.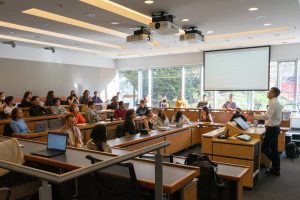 Tesdell gave us a moving political ecology of olive agroforestry in Palestine, and the visions it offers for future ways of living through climate crisis. He showed how the biophysical features and perennial habits of these ancient food sources have enabled olive culture to not only survive but thrive where other small-scale agriculture has collapsed under pressures of market liberalization and occupation. These "remnant" agricultural practices have been reinvented, in moments of crisis, to enable renewed relations to land and revivals of traditional knowledge. Olives have much to teach us, it seems, about how connecting with deep plant timescales can provide new (and old) ways of living through climate upheaval.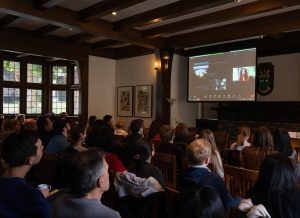 Riofrancos took us to the frontiers of the so-called "green" economy, where therush for rare earths critical to renewable energy economies – in particular lithium – is redrawing geographies of extraction. With production concentrated in a handful of countries (Australia, Chile, China, and Argentina), demand for lithium threatens to quickly outpace supply of this element critical to EVs and other low-carbon technologies, raising the costs of low-carbon transitions. Riofrancos charted the "security-sustainability nexus" in which Global North governments are increasingly seeking to onshore and thereby gain greater control over lithium production, with inadequate protections for the peoples and ecologies on the frontiers of this production. Crucially, Riofrancos' policy-engaged research shows that demand for lithium can be reduced by up to 92% through public policies that prioritize mass transit and reduce reliance on EVs.
To learn more, check out Riofranco's recent policy report on low-lithium transportation futures with Climate and Community Project, and the work of Tesdell's research group Makaneyyat – including their ongoing efforts to catalog Palestinian wild food plants and build just agroecological landscapes in Palestine: